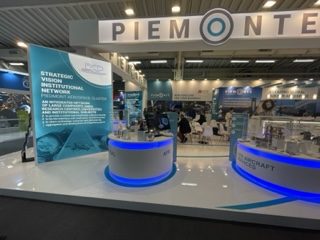 | Jun, 19, 2023 |
Events and news
Il nostro Distretto Aerospaziale Piemonte partecipa al  Paris Air Show nell'ampio spazio espositivo di 200 mq. della Regione Piemonte, organizzato dal Centro Estero per l'Internazionalizzazione (Ceipiemonte) con la presenza della Camera di commercio di Torino.
<<La nostra presenza al Paris Air Show 2023, l'evento maggiormente rappresentativo del settore dell'aerospazio>> dichiara Fulvia Quagliotti, Presidente Distretto Aerospaziale Piemonte <<ci consente di rafforzare le relazioni con player internazionali, insieme alla Regione Piemonte, al Ceipiemonte e alla Camera di Commercio, per divulgare in particolare un modello di competenze territoriali e di alta tecnologia, che pone la nostra Regione come hub privilegiato per lo sviluppo di grandi commesse internazionali. L'agenda prevede incontri con realtà governative estere per avviare un maggiore legame con il nostro qualificato territorio>>.
Il sistema aerospaziale del Piemonte rappresenta una sua unicità nel panorama delle Regioni italiane, potendo contare sul proprio territorio grandi player dell'industria aerospaziale – Leonardo, GE Avio, Thales Alenia Space, Collins Aerospace, Mecaer – che collaborano con oltre 350 PMI, con il mondo accademico e con i centri di ricerca. L'aerospazio in Piemonte raggiunge un fatturato complessivo di 7 miliardi di euro e impiega oltre 22.000 addetti, con il 20% delle esportazioni italiane del settore.
Il Presidente del Distretto dell'Aerospazio Piemonte Fulvia Quagliotti parteciperà nel pomeriggio di martedì 20 giugno nello stand Piemonte al workshop "Unleashing the Sky's potential: Aerospace excellence, Innovative trends and investimenti Opportunities in Piemonte" a cui interverranno inoltre l'Assessore all'Internazionalizzazione Fabrizio Ricca e l'Assessore alle Attività Produttive Andrea Tronzano, il Segretario Generale della Camera di Commercio di Torino Guido Bolatto, il Presidente di Ceipiemonte Dario Peirone e i rappresentanti dei key player internazionali localizzati in Piemonte: Leonardo, GE Avio, Thales Alenia Space, Collins  Aerospace.