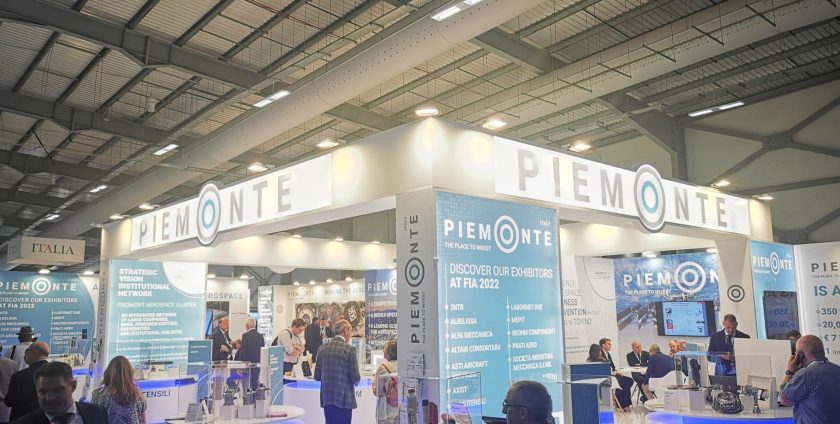 | Jul, 14, 2022 |
Events and news
La Regione Piemonte e il Ceipiemonte saranno presenti a sostegno del comparto aerospaziale piemontese alla fiera che si terrà alle porte di Londra.
L'evento vede la partecipazione, oltre che delle Istituzioni, di ben 13 PMI piemontesi in un consesso internazionale utile per sviluppare e promuovere il business di un settore decisamente in crescita. La partecipazione è organizzata da Ceipiemonte su incarico della Regione nell'ambito del Progetto Integrato di Filiera "Aerospazio" finanziato grazie ai fondi POR -FESR Piemonte 2014-2020.
Una fiera biennale, quella dell'aerospazio, che si tiene a Farnborough dal 18 al 22 luglio che si colloca in un mercato decisamente ricco e interessante, quello inglese, per il comparto industriale della nostra regione. Un bacino quello aerospaziale piemontese decisamente in crescita, che vanta 7 miliardi di euro di fatturato e 20.000 addetti, 350 PMI di settori assolutamente competitivi che riguardano: sistemi propulsivi, aero strutture, equipaggiamenti, sistemi movimentazione e logistica.
Trend e nuove tecnologie della filiera regionale saranno inoltre presentati in occasione di un workshop " What's going on in Piemonte: trend and new Technologies of the most oriented Aerospace region"  in stand il 19 luglio alle h. 15.30 dove le Grandi Industrie territoriali (GE Avio Aero, Leonardo, Collins Aerospace, Thales Alenia Space, Lockheed Martin)  illustreranno i principali sviluppi del settore legati al territorio e alle strategie aziendali e alla supply chain. All'incontro parteciperanno anche il Presidente di Ceipiemonte, Dario Peirone, l'Assessore della Regione Piemonte all'internazionalizzazione, Fabrizio Ricca, l'Assessore della Regione Piemonte alle Attività Produttive, Andrea Tronzano, il vice-presidente del nostro Distretto, Giacomo Martinotti.  
In Piemonte l'aerospazio è una delle eccellenze del tessuto produttivo e scientifico, confermata dalla vocazione per l'innovazione tecnologica. La filiera produttiva è unica grazie alla presenza di know-how, capacità tecniche, manifattura di alto livello, imprese impegnate nello sviluppo di processi e servizi, cooperazione con le università e con la rete di ricerca & sviluppo e una catena di fornitura organizzata.
Al Farnborough International Airshow verrà rilanciato il ruolo strategico del Piemonte nello sviluppo dell'Advanced Urban Air Mobility. In Piemonte si stanno sviluppando importanti progetti sul tema in collaborazione con grandi aziende come Leonardo, Thales Alenia e Avio Aero, con PMI aeronautiche come Digisky, PMI Automotive e Aerospace come Sabelt e Beond e con il Politecnico di Torino.