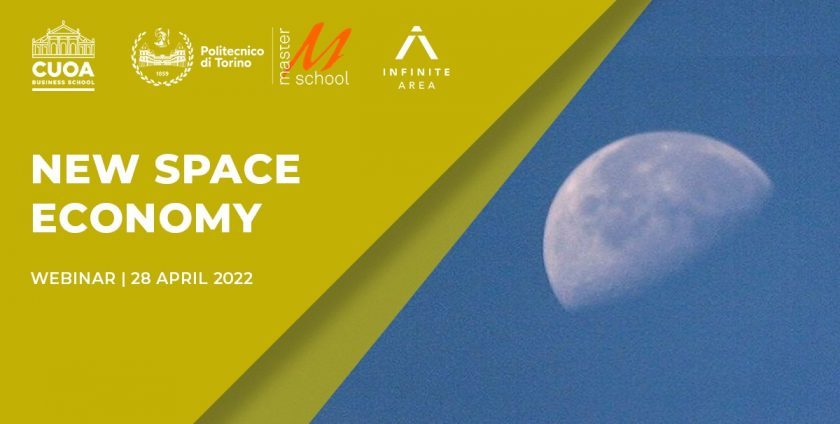 | Apr, 22, 2022 |
Events and news
Giovedì 28 aprile 2022, dalle 17.00 alle 18.30 in Live streaming si terrà il webinar "Trasferimento Tecnologico dal settore Spaziale per nuovi business e nuove competenze" organizzato da CUOA Business School.
Il settore dello Spazio è sempre più aperto alla contaminazione con altre industrie e all'integrazione di nuove competenze.
È però necessario al contempo creare e stimolare la consapevolezza che le imprese non-Spazio possono trarre beneficio da quanto sviluppato in ambito spaziale ed essere al tempo stesso motore di innovazione.
Il trasferimento tecnologico da Spazio a Terra, e viceversa, gioca un ruolo fondamentale per creare nuovi modelli di business e nuove opportunità di creazione di impresa (start-up o spin-off).
Il webinar intende stimolare la discussione a partire dalla visione dell'Agenzia Spaziale Europea (ESA) e presentare il nuovo percorso formativo "New Space Economy" progettato da CUOA Business School, InfiniteArea e Politecnico di Torino. L'iniziativa intende porsi come punto di riferimento per far avvicinare allo Spazio settori apparentemente lontani ma che sono da sempre innovativi e portatori di nuove idee.
PROGRAMMA DELL'EVENTO
Ore 17.00 – 17.10 Saluti istituzionali
Giuseppe Caldiera, Direttore Generale di CUOA Business School
Patrizio Bof, Presidente Infinite Area
Paolo Neirotti, Professore Ordinario presso il Politecnico di Torino, Direttore della Scuola Master e Formazione Permanente
Ore 17.10 – 17.20 Introduzione e scenario della Space Economy
Anilkumar Dave, Partner Infinite Area, Space Economy advisory, già responsabile unità "Innovazione e Trasferimento Tecnologico" presso Agenzia Spaziale Italiana
Ore 17.20 – 17.35 Le opportunità offerte dal trasferimento tecnologico dell'ESA
Aude de Clercq, Head of Tech Transfer and Patent Management Unit, ESA
Ore 17.35 – 17.50 Testimonianza aziendale
Andrea Romiti, Amministratore Delegato di APR
Ore 17.50 – 18.00 Presentazione dati survey
Cristiana Nogara, Education Advisor, Business Unit Jobleader e corsi executive CUOA Business School
Ore 18.00 – 18.20 Presentazione del corso executive "New Space Economy"
Anilkumar Dave
Giuseppe Scellato, Professore ordinario presso Politecnico di Torino e Presidente I3P – Innovative Companies Incubator
Alessandro Garofalo, Fisico, esperto di innovazione e creatività di nuovi prodotti e servizi per le imprese, Faculty member CUOA Business School
Cristiana Nogara, ​Education Advisor, Business Unit Jobleader e corsi executive CUOA Business School
Ore 18.20 – 18.30 Q&A e saluti conclusivi.
Per informazioni:
CUOA Business School, tel. 0444 333719, jobleader@cuoa.it